Many years ago, when I was a new driving instructor in York, I noticed some of my clients were failing tests for doing the same things wrong, in the same places. I decided I should make sure my clients understood these tricky "features" before going for their test and hence my "Features List" was born. Rather than teaching the features themselves though, I endeavour to teach a methodology for dealing with them that can then be transferred to other, similar situations. Here's the next feature in my list on a York test-route – The Space Station Roundabout.
Location – Hull Road/Field Lane Roundabout, heading east, out of York towards B&Q
Common Faults
Incorrect lane leaving roundabout
Insufficient acceleration leaving roundabout
Staying in right hand lane for too long
No use of MSM Procedure
No signal or incorrectly timed signal to move to left lane
Starting to change to left lane without taking effective observation first
How To Do It Right
Principles
"While traveling on a two-lane dual carriageway you should stay in the left-hand lane. Use the right-hand lane only for overtaking or when turning right. After overtaking, move back to the left-hand lane when it is safe to do so."

Highway Code
This rule in the highway code is a main principle of negotiating the York Test-Route Space Station roundabout.
Approach
Whichever direct we come from (on test this is likely to be Hull Road heading away from the Black Bull public house) you should use the Mirror, Signal, Manoeuvre routine, though of course no signal is required on approach to the roundabout if we are proceeding ahead from Hull Road to Hull Road.
Leaving The Roundabout
As we leave the roundabout (with a leaving signal to say we're doing so), the lane markings take us into the right hand lane onto Hull Road, past the "Space Station" petrol station on the left. We should only cut through the hatch markings into the left lane if we are turning into the Space Station.
As we point the car off the roundabout, a good squeeze of the gas pedal is appropriate (subject to slower moving vehicles in front of us) to get some good acceleration away from following vehicles. This is important. If we leave the roundabout too slowly, following drivers are likely to feel more inclined to want to overtake and may start to move past on our left. They shouldn't really be doing this, but I've seen it many times. The point here is, we shouldn't be encouraging them to do this by driving too slowly!
So, we apply gas and leave the roundabout into the right hand lane. We should immediately be looking at the exit to the Space Station. Is anyone coming out?
If not then we need to think about moving into the left lane straight away. This is in keeping with the principle in the Highway Code mentioned above. In order to do this however, we need to once again apply the MSM routine.
If someone is emerging from the Space Station then we should ensure we are past safely before moving left.
MSM – Mirrors – Look First!
Several years ago one of my learners failed his test here but struggled to understand why. He had checked his left mirror, seen a vehicle overtaking on the left, and aborted his move to the left lane.
"I looked!" he cried.
"Yes," I replied, "you looked and then you swerved back into the right lane. You'd already started to move before looking. If you hadn't, you wouldn't have needed to swerve when you saw the car there."
Suddenly he understood. He hadn't taken effective observation BEFORE starting his manoeuvre. It is imperative whenever changing lanes that we look first. As I say to my clients, if we start to move first and then look, we're just looking to see who it is we're crashing into.
So – mirrors (centre and especially left) before anything else.
MSM – Signal
The highway code tells us we should signal before changing lanes. Consequently, following a left mirror check, we should apply a left signal. If we still have a signal on from leaving the roundabout we can leave it on.The best approach is to cancel the signal immediately off the roundabout, then re-apply having checked the Space Station exit. If we just leave the left signal on as we leave the roundabout, following drivers may think we've just forgotten to cancel it.
I recommend we signal even if there's someone there. An indicator signal is, or at least should be, an indication of intent. There's little point (no point?) in signalling to tell other road users what you're already doing.
If there is someone there, a signal may discourage them from overtaking on our left. They may, seeing we want to move left, even let us in.
MSM – Manoeuvre
Only once we've looked and signalled and properly ascertained it's safe should we change lanes. And unless we're turning right or overtaking we DO need to change lanes. Staying too long in the right lane is not in accordance with the Highway Code.
York Test-Route Space Station
And there it is. How to successfully deal with the York Test-Route Space Station.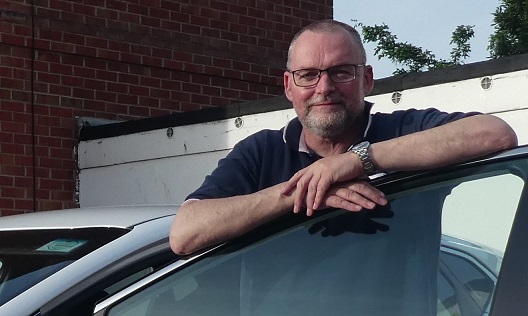 Andrew (Deej) De-Giorgio is a qualified, "Grade A" Approved Driving Instructor working in York
For lesson prices and other information, checkout the Home Page